ECE Graduate Program Info
At Montana State University, research in the ECE department extends beyond traditional boundaries. Most ongoing projects involve cross-disciplinary work, as professors and students collaborate with members of various departments across campus.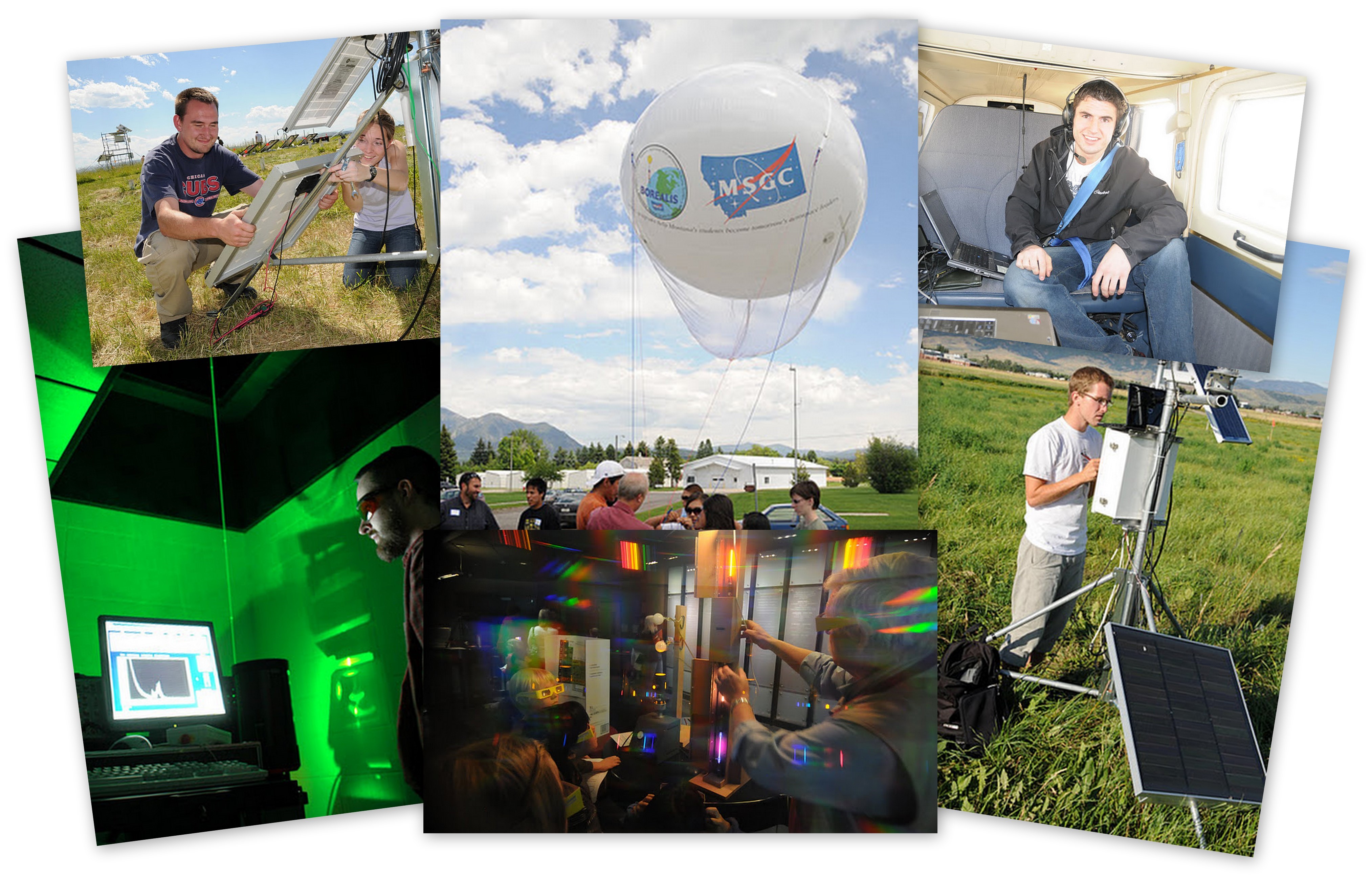 Photographs by Joseph Shaw

Current ongoing projects at MSU
Remote Sensing
Atmospheric Polarization Imaging
Optical Aurora Sensing
Micro- and Nanofabrication
Optics
Power and Energy
Digital Design / Intelligent Computing
Signals and Controls
Communications
Facilities at MSU
Space Science and Engineering Lab (SSEL), sponsored by the Montana Space Grant Consortium (MSGC)
Montana Microfabrication Facility (MMF)
Optical Technology Center (OpTeC)
Imaging and Chemical Analysis Lab (ICAL)
Spectrum Lab
Micro- and Nano-fabrication
Research in this area includes the development and fabrication of microelectronic devices, such as high-frequency inductors, silicon semiconductors, and micro-optic devices. Dr. James Becker's work primarily involves high-frequency CMOS design and power combining. Dr. David Dickensheets' research includes micro-optical devices, such as membrane focus control mirrors, and Dr. Todd Kaiser focuses on micro-electro-mechanical system (MEMS) development, specifically actuators and sensors. Dr. Wataru Nakagawa specializes in the fabrication in such micro- and nano-sized devices.Applications of micro- and nanofabrication span all areas of research within the department.
Contact Information
Optics
The optics-related research is focused on climate and atmospheric behaviors, and also micro-optic devices. Professors design optical sensors to collect data and create images of polarized light in the atmosphere. Dr. Kevin Repasky's research involves using optical remote sensing to collect and analyze data on geological carbon sequestration and the development of LIDAR. Dr. Joseph Shaw also works with optical remote sensing, specializing in infrared imagining, polarimetry, and LIDAR. Dr. David Dickensheets' research encompasses optical instrument development for medical purposes, such as optical coherence tomography and confocal microscopes.
Contact Information
Power and Energy
The topics of research range from alternative energy sources, such as wind, photovoltaics, fuel cells, and microturbines, to motors and power electronics. Dr. M. Hashem Nehrir's research focuses on alternative energy source development and application, such as smart and microgrid technology, and the modeling and application of power distribution system enhancement designs for residential use. Dr. Hongwei Gao focuses on motor design, including for electric and hybrid vehicles, and power electronics. Dr. Steven Shaw's research involves employing fuel cell technology for a variety of applications.
Contact Information
Digital Design and Intelligent Computing
Research in this area includes the development of microsensors, such as actuators, gyroscopes, and accelerometers. Dr. Brock LaMeres' work involves computer engineering and digital systems design, and he oversees the High Altitude Balloon Payload Design program, a summer project open to female engineering students. Dr. Todd Kaiser primarily develops MEMS sensors and actuators. Both professors are currently collaborating with NASA to develop a reconfigurable computing device that self-detects areas damaged by radiation. Past projects also include the award-winning lunar robot.
Contact Information
Signals and Controls
This field of research includes a variety of areas, ranging audio engineering and acoustics, auditory and visual neurosciences, to system identification and controls. Dr. Robert Maher's research currently encompasses environmental sound monitoring and modeling and digital signal processing. Dr. Ross Snider researches how the brain processes simultaneously-occurring auditory signals. Dr. Steven Shaw's research also includes designing control circuits for different purposes.
Contact Information
Communications
The area of communications research pertains to the development and design of optical communication devices, ad hoc networks, and Smart antennae. Dr. Ioannis Roudas specializes in communications research.
Contact Information